Celebrate Women's History Month!
ASLA-NY is thrilled to celebrate Women's History Month with our members to share stories, resources and information to highlight how women have, and continue to, shape our profession.
In 1987, Congress voted to make March Women's History Month. New York City had recognized the month of March as Women's History Month since 1981.
Clara Stimson Coffey
After graduating from the University of Michigan in 1919, Clara worked for Warren Manning, then Ellen Shipman and Marion Coffin before starting her own firm in 1928. From 1936-1942 she was Chief of Tree Plantings at NYC Parks. Some of her most notable works include: plantings at the Central Park Conservatory, Park Avenue Malls, Sutton Place and the Vale of Cashmere in Prospect Park. In 1977, she was appointed to the Art Commission of New York City as its professional landscape architect. In 1978 she became a Fellow of the American Society of Landscape Architects.
Learn more about Clara Coffey HERE 
Marian Cruger Coffin
She was one of the first American women to work as a professional landscape architect and the third female member of ASLA (1906). Coffin insisted on being paid the same fees as a male architect and to be treated equally in contracts; this was a novelty in itself, at a time when women were usually paid less than men. She also liked to employ women to work with her on commissions, giving them the chance to undertake apprenticeships that male prejudice had denied her when she had first started on her career. Marian's most recognized work is Winterthur in Delaware. Learn more about Marian Coffin HERE
Beatrix Farrand
Recognized as America's first female landscape architect, she was one of America's most celebrated landscape architects, renowned for the private estate gardens she designed for East Coast society and was a founding member (the only female) of ASLA and ASLA-NY. Some of her most notable works include Dumbarton Oaks, the Abby Aldrich Rockefeller Garden (Maine), Bellefield in Hyde Park, and the old campus at Princeton University. Learn more about Beatrix Farrand HERE.
Check out our Member Spotlight
Learn more about some of our amazing members on our newly-redesigned Member Spotlight page. Members we have recently highlighted include:
2011, Directed by: Carolann Stoney
Women in the Dirt is about the groundbreaking work of seven landscape architects examining how women have helped shape the profession of landscape architecture for over a hundred years. Through conversations with the designers in their offices, or outdoors in the stunning spaces they've designed, the film explores each woman's philosophy and approach to their discipline. Click HERE to watch the full movie.
ASLA-NY: Women in Landscape: Designing the Bigger Time Tools for Creating a Gender Just Practice
YouTube
As landscape architects, we know diversity is essential for healthy ecological systems. Diversity is also vital for landscape architecture practices, and to achieve it requires active intervention. Whether you're male, female or non-binary, are just starting your career or are firm leader, join the founders of WxLA and Jennifer Reut, Interim Editor of Landscape Architecture Magazine, for a discussion about tangible ways to advance gender equity and equality in your landscape architecture practice. Watch this video HERE
Vital Olmsted Landscapes Into the Future
YouTube
Patricia O'Donnell, FASLA, of Heritage Landscapes, gave a presentation on issues and solutions associated with adapting Olmsted landscapes for the future. Her talk, Vital Olmsted Landscapes Into the Future, was part of the Olmsted Network's Open Exchange meetings for its partner network to discuss opportunities and challenges facing Olmsted landscapes.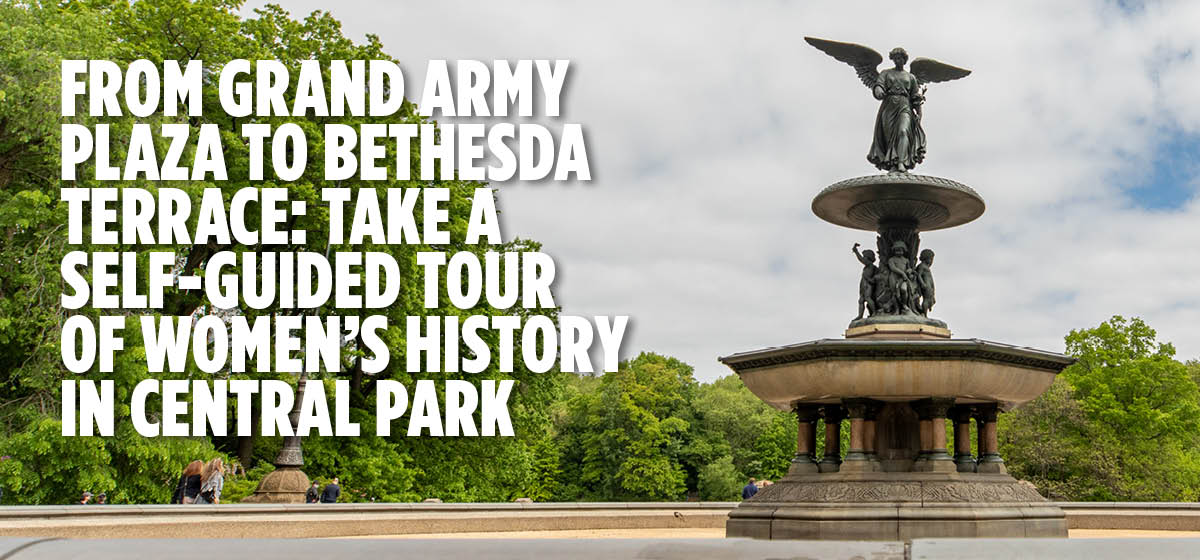 Since its creation, women have helped make Central Park a thriving public space. In honor of Women's History Month, take our self-guided walk that highlights some of the women who created, inspired, and placed Park monuments and memorials—in the form of sculptures, playgrounds, landscapes, or recreational facilities.
"Women have literally shaped the American landscape and continue to today, but their names and contributions are largely unknown."
Designing the Bigger Time: Tools for a Gender Just Workplace World Landscape Architecture, March 8, 2021
The founders of WxLA offer research, strategies and tactics for creating workplaces that support more inclusive and representative design practice.
WxLA: WxLA is an advocacy initiative created in 2018 to encourage and lead efforts toward equality in our profession. We stand for increased transparency, leadership and representation for womxn.
ASLA Women in Landscape Architecture (WILA) Professional Practice Network (PPN) focuses on the experience and contributions of women in the profession. Membership in the group is open and encouraged for women and men. WILA works to create resources for women in the profession, provide mentorship opportunities, encourage discussion of work/life balance concerns, and establish a virtual home for members.
Equality in the worlplace