Celebrate World Landscape Architecture Month!
Happy World Landscape Architecture Month! All month we will bring to you many examples of how landscape architects create places where life grows and how these places affect the lives of all people. We will be celebrating this month by highlighting all the 2022 ASLA-NY Design Award winning projects as well as posting photos and videos by our members. 
Here are a few ways you can participate: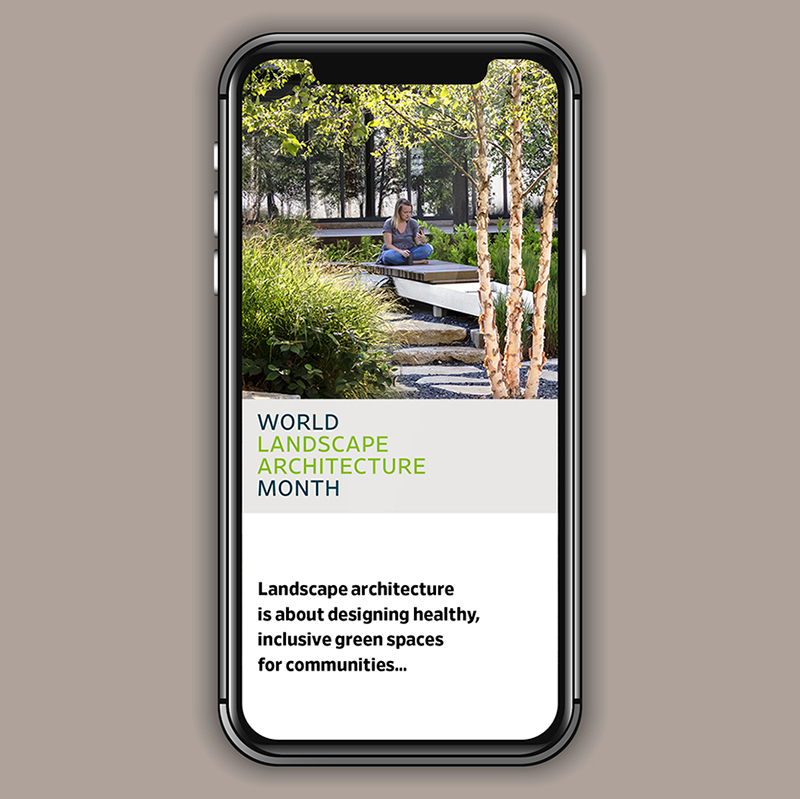 Share Landscape Architecture on Social Media
For #WLAM2022, we explore: What is landscape architecture? What does landscape architecture mean to you?
ASLA invites you to post your answers on your social media channels throughout the month of April. Tell the world what landscape architecture is. Use simple language.
Snap a photo, add one of WLAM Logos, and post on your channels with the hashtag #WLAM2022.
We hope to see lots of posts this month!
Check out our Member Spotlight
Learn more about some of our amazing members on our newly-redesigned Member Spotlight page. Members we have recently highlighted include:
Events - Celebrate Olmsted 200
ARSENAL GALLERY EXHIBITION: "PARKS NOW: HONORING THE OLMSTED LEGACY"
On view through June 2, 2022
See recent innovative park designs that build on Olmsted's legacy in New York City with "Parks Now: Honoring the Olmsted Legacy," on view at the Arsenal Gallery in Central Park. Olmsted created a new kind of civil engineering that blended function and beauty, producing sanctuaries that had a profound impact on the cityscape. With renderings, site plans, and photos, this exhibition highlights Olmsted's New York City projects, greenways then and now, and a selection of 10 new and reimagined parks that incorporate his design principles–including former industrial sites, waterfront parks, plazas, and neighborhood playgrounds:
Bronx: Hugh Grant Circle/Virginia Park, Concrete Plant Park
Brooklyn: Lincoln Terrace Playground, Sunset Park Playground
Manhattan: Monsignor Kett Playground, Central Park's Harlem Meer Center (formerly Lasker Rink and Pool)
Queens: Elmhurst Park, Bayswater Park
Staten Island: Faber Park, Richmond Terrace
Mask-wearing is required to enter the gallery, and guests are required to sign in. Groups of five or more people can call 212-360-8114 or email artandantiquities@parks.nyc.gov to pre-register.
Heart of Central Park Hike – Manhattan
Saturday, April 23, 2022 | 1 p.m.–2:30 p.m.
This two-mile hike will take you through the heart of one of Olmsted's most beloved designs and some of Central Park's iconic attractions, including Bethesda Fountain, Bow Bridge, The Ramble, and Belvedere Castle.
Forest Park Hike – Queens
Sunday, April 24, 2022 | 10 a.m.–11:30 a.m.
Explore Forest Park's many natural treasures and learn how Olmsted's design firm helped shape the main passageway through the 507-acre park that spans five neighborhoods in Queens.
Walk With Olmsted in Van Cortlandt Park – Bronx
Tuesday, April 26, 2022 | 11 a.m.–12:30 p.m.
Join the Urban Park Rangers for a walk and talk about the life and legacy of Frederick Law Olmsted. Take in the beauty of Van Cortlandt Park and learn about the man who became known as the "father of landscape architecture," forever changing America's relationship with public parks.
Silver Lake Park Design – Staten Island
Saturday, April 30, 2022 | 10 a.m.–11:30 a.m.
Learn about Olmsted's design principles – including designing open spaces to meet fundamental social and psychological needs and keeping the natural scenery and topography of the site – and how they apply to Silver Lake Park.
Prospect Park Super Hike – Brooklyn
Saturday, April 30, 2022 | Noon.–2 p.m.
Take a long hike through one of Frederick Law Olmsted's most famously pastoral parks. Explore the hidden paths, waterways, meadows and woods the way that Olmsted and Calvert Vaux intended for visitors in this Brooklyn gem.
For more information about Frederick Law Olmsted and a full list of upcoming events, visit Park's website here.
ASLA-NY: Women in Landscape: Designing the Bigger Time Tools for Creating a Gender Just Practice
YouTube
As landscape architects, we know diversity is essential for healthy ecological systems. Diversity is also vital for landscape architecture practices, and to achieve it requires active intervention. Whether you're male, female or non-binary, are just starting your career or are firm leader, join the founders of WxLA and Jennifer Reut, Interim Editor of Landscape Architecture Magazine, for a discussion about tangible ways to advance gender equity and equality in your landscape architecture practice. Watch this video HERE