2021 LAF Medal
Karen A. Phillips, FASLA, named as this year's honoree.
Launched in 2016 in conjunction with LAF's 50th anniversary, the LAF Medal and Founders' Award are annual awards that honor those who have made a significant and sustained contribution to LAF's mission to support the preservation, improvement, and enhancement of the environment. The LAF Medal is awarded to an impactful individual while the LAF Founders' Award honors a firm, agency, or organization that has made a meaningful contribution to the discipline of landscape architecture.
LAF MEDAL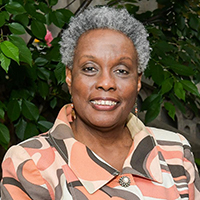 The LAF Medal is conveyed to a landscape architect for distinguished work in applying the principles of sustainability to landscapes over a career. Honorees come from private practice, academia, nonprofit and public sectors, exemplify the values of LAF, and have made a significant contribution to the advancement of the landscape architecture discipline. The 2021 LAF Medal goes to Karen A. Phillips, FASLA.
Credited as a leading figure of the second Harlem Renaissance, Karen is known to her friends and colleagues as someone with a steadfast commitment to equitable and sustainable urban development. Her career spanned real estate, urban planning and revitalization, environmental design, community development, and public service.
As CEO of Harlem's Abyssinian Development Corporation, she used historic preservation and architectural rehabilitation to uphold the neighborhood's physical fabric, revitalize landmarks, and created affordable housing in tandem with economic development, civic engagement, and social services. Karen later established and served as Director of the Office of Sustainability at New York State Homes and Community Renewal, which resulted in policies, programs, and coordination with other public and private partners to promote energy efficiency and resiliency in economically challenged communities. Prior to that position she was the New York City Regional Director for New York State Department of Parks, Recreation and Historic Preservation, following nearly 10 years as an appointed member of the New York City Planning Commission.
"Through a hands-on approach, Karen translated lessons learned from Harlem to numerous redevelopment projects. She has been a champion for disadvantaged communities, bringing a landscape architecture perspective to influential positions that incorporated equity and sustainability, and contributed to the production of jobs through many different forums."
 – LAF Medal and Founders' Award Committee
Karen earned a BLA from the University of Georgia, where she was recently selected as one of the "Owens 50" for trailblazing and visionary alumni, and an MLA from the Harvard Graduate School of Design. From 1994 to 1998 she served on the LAF Board of Directors, and over the years served on numerous committees of ASLA. She contributed to the formation of the Black Landscape Architects Network (BlackLAN), which works to increase the visibility, support the interests, and foster the impact of Black practitioners and students in landscape architecture and continues to serve on the BlackLAN fundraising committee. Recently retired, Karen is engaged in documenting her experiences in rebuilding communities sustainably, shares her expertise through her consulting firm, and serves on the Cooper Hewitt Smithsonian National Design Museum Board of Trustees.
"I am humbled to have been chosen for this prestigious LAF Medal. The landscape architecture profession has greatly influenced the projects, programs, and organizations in which I have been privileged to contribute my skills.  My practice has taken the path of nonprofits and public service, and I am proud to have helped improve the living conditions and aesthetics of communities, where residents have little control of their environment, through just and equitable development."
LAF proudly recognizes Karen's expansive career, passionate advocacy, and diligent commitment to sustainability for all with the award of the 2021 LAF Medal.
Read full story: https://www.lafoundation.org/news/2021/01/2021-laf-medal-founders-award 
[/av_textblock]