JOIN US TO HELP SHAPE THE FUTURE OF OUR PROFESSION!
It's time to spread the word about our profession to future landscape architects. And now we have made it easy for YOU to help.
Career Day at your local school is the perfect time to promote landscape architecture as a career option to students.  To help make this as simple as possible, our Education Committee has created the attached Powerpoint Presentation, "What is Landscape Architecture?"  This presentation is designed for high school level students.  It is ready to go and even provides talking points for you. Feel free to add images of your own projects in place of, or in addition to, those here – even projects in your own neighborhood if possible.
Call the school your kids go to and ask them if you can participate in their Career Day. If you don't have any children in school, contact your local neighborhood school.
Tell them you will need about 30-45 minutes for the presentation and Q&A's.
Download the presentation to a thumb drive.
Save the presentation as a pdf as well as a PPT in the event the equipment to be used does not accept the PPT.
Make sure there is a projector, smart board or monitor in the classroom and you are ready to go!
Tips:
Swap out images with ones your students may recognize - a local park or playground, a neighborhood streetscape or a well-known plaza.
Use your own photos/projects whenever possible and credit the photographer and landscape architect
Limit words on slides - let the images tell the story!
Customize for different age groups. For example, middle school and high school ages will understand green infrastructure, climate resiliency, and more technical aspects of design; K-5 students will respond better to fun playgrounds., water parks, zoos and places they are familiar with.
If you can, print out the Activity Books found on ASLA's website for each student to take home.
Please let us know when and where your presentation occurs. Share with us any comments and/or suggestions from your experience.
We look forward to hearing from you. Contact Diane Sferrazza Katz at director@aslany.org for questions, and comments and to tell her of your success presenting at a school.
Check out these free student activities aligned to national teaching standards. They were originally developed for National Landscape Architecture Month and are available on the asla.org website.
Sketch Books: Discover Landscape Architecture (English and Spanish)
Grades: PreK-12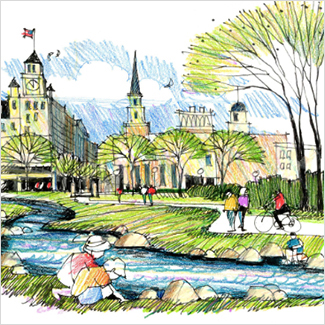 No matter what level of involvement you are looking for, ASLA-NY has many great committees that could use your help:
Advocacy & Policy
Awards
Communications/PR
Budget & Finance
DEI Working Group
Education
Fellows Nominating
Membership
Programs
Sponsorships
NYSCLA
Contact Diane Sferrazza Katz at director@aslany.org for more information about committee responsibilities and to join one (or more). For full descriptions of our committees, click here.