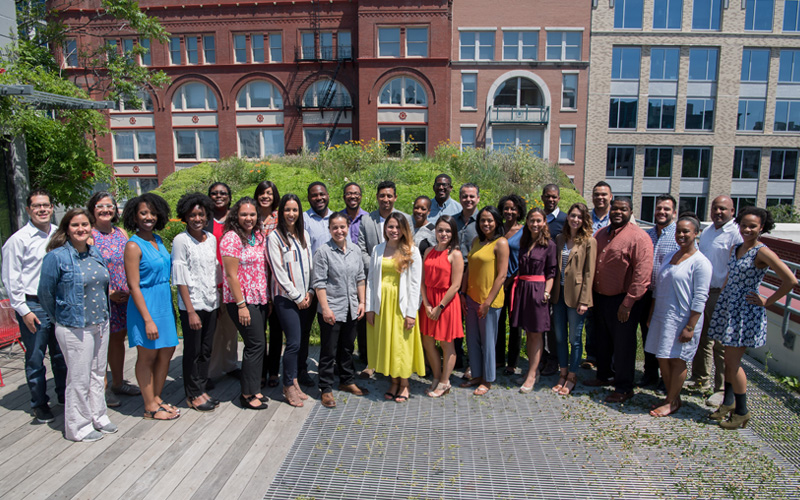 This year, ASLA will host the 2018 Diversity Summit from June 22-24 at the ASLA Center for Landscape Architecture in Washington, D.C. The six new professionals from the Diversity Super Summit have been invited back and ASLA is looking to invite six new participants to add valuable input to discussions and resource development. The goals of the 2018 Diversity Summit are to review benchmarks prioritized from the 2017 Diversity Super Summit and create opportunities for participants to research and workshop resources for ASLA's career discovery and diversity program.
Eligibility
If you are a landscape architecture professional of color in the United States with at least two years of professional experience and interested in applying, please complete the 2018 ASLA Diversity Summit Call for Letters of Interest by Wednesday, March 7. Selected participants will be notified in early April. ASLA will pay primary transportation and two nights lodging for all participants, and breakfast and lunch will be provided on the summit days.
Learn more about the Diversity Summit here: https://www.asla.org/diversitysummit.aspx
Please contact Shawn, sbalon@asla.org, with any questions about the diversity call.
About the Diversity Summit
Population growth of people of color in the United States has outpaced that of white Americans for the past two decades, and by 2043 the U.S. Census Bureau projects the nation to become a majority-minority nation. The shifting demographics of our nation are not reflected in the field of landscape architecture where African Americans and Latinx together account for 17 percent of graduating landscape architecture students. New perspective is needed to ensure that landscape architecture reflects the communities it serves.
In 2013, ASLA convened its first Diversity Summit with the goal of developing a deeper understanding of why landscape architecture is failing to attract a more diverse profile. Each summit has brought together a group of experienced and emerging landscape architects who identify as African American or Latinx to develop strategies that address diversity issues in the field.
In 2017, the Diversity SuperSummit convened the largest group of attendees to date. Participants evaluated goals from previous summits, developed focus areas for four key diversity initiatives to guide ASLA's work plan in the coming year, and discussed the future of the Diversity Summit. Focus items and initiatives will continue to be established and evaluated as ASLA plans future Summits. The following includes links to resources, news and articles, and Summit reports published since the first Diversity Summit convened in 2013.